It has always been difficult for me to understand the world around me and, even more so, to assume the sophisticated logic that allows us to keep alive the capitalist system that controls us as herds and seeks to indicate how we should think, act and react. Through the media and other subtle methods of manipulation, we are led to believe a lot of nonsense like that working dignifies us, that the validity of our bodies depends on certain aesthetic patterns almost impossible to achieve, or that monogamy is the only viable way to relate, intending to keep active the gear that benefits a small group of privileged people at the expense of the rest.
Thus, we are part of a society full of apathy, superficiality, and violence hidden under the carpet, in which consumerism, productivity, and immediate results become key issues. However, even though these imposed behaviors and beliefs have become firmly integrated into our daily lives, it is inevitable that the monstrosities that we cannot – nor do we want to – adapt to hegemonic norms, we ask ourselves questions such as: "What happens if I decide to swim against the current? How can I break free from the norm without falling into personal and collective rejection? What does it mean to waste time? What alternatives can I find to be true to my nature, criteria, and values?"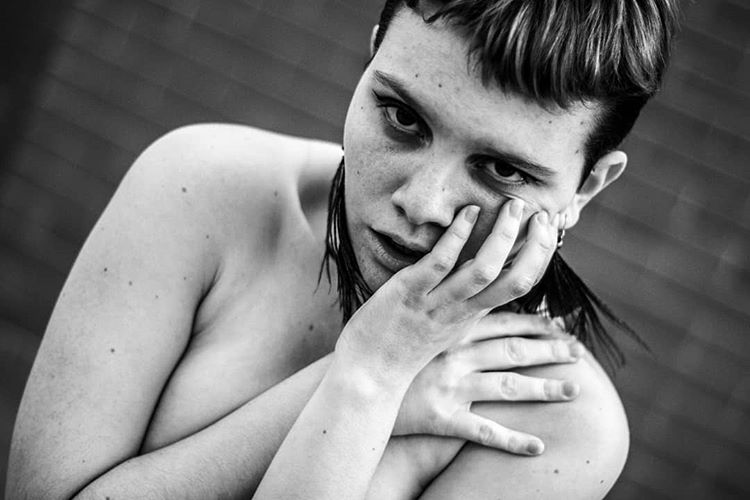 Answering these questions is more complicated than looking for a needle in a haystack and I doubt they have a single solution. Honestly, every time they resonate inside my skull, I see an abysmal precipice that terrifies me and shrinks my head as if in a math class I was asked to go to the blackboard to expose an exercise I didn't know how to do. Otherwise, it should be noted that these are questions that must be addressed taking into account the context and the social privileges on which one is based, as they will influence the number of steps we will have to climb to reach the alternative that best represents us. However, I believe that ultimately there is no choice but to prioritize what we need, accept that there is no ideal remedy and go for what seems less harmful.
From this context, I see naturism as a breath of fresh air in front of the bizarre scene that is being drawn internationally. It is a gleam of hope that allows me to be true to my values and needs, as well as to relate in a healthier way to the environment and myself. I went into it as a teenager, in parallel with my first interaction with feminisms, practicing nudism on small beaches and spaces of all kinds, both urban and natural. Soon, it ended up becoming an artistic tool that accompanied me in various photography, performance, and dance projects. As I have been discovering the world, however, nudism has come to represent one more part of my identity as a naturist. I realized that taking care of oneself, highlighting the cruelty towards other species, encouraging personal and collective well-being, and enjoying what we have is fundamental and, at the same time, a cork that stings the navel of the system because we must keep in mind that one of its primary objectives is to keep us sedated and dissatisfied to suffocate us when we least expect it.
Before concluding this article, I would like to emphasize the importance of building safe naturist spaces in which no degrading or discriminatory attitudes of any kind are allowed. Although it should not be like that, in all areas and social movements people end up reproducing various roles and behaviors that lead to obvious inequalities based on gender identity, sexual orientation, social class, age, origin, religion, abilities, and body appearance and capacity (among others), and this is not changed by simply shouting "I am a naturist!"; rather, it requires a long process of (un)learning in which we must assume our privileges to stop exercising avoidable oppression.
The lifestyle that we encourage from Young Naturists helps me find serenity throughout this stormy journey, and although it is difficult to leave behind certain ingrained habits and prevent prejudice from manipulating my desires, I feel very pleased to have chosen this vital direction.