Our group is always open to new members, and to be part of it you just need the will to have fun, make new friends and to leave behind all clothes and prejudices to be able to fully enjoy the naturist lifestyle in the company of others like you. Have you read the posts on the meetings we have made so far and would you like to join us in any of the ones we will be organizing soon? Or maybe you would like to take part in our work to promote naturism in Catalonia, either by becoming a CCN associate, collaborating on this website or helping us organize activities? Here's how to do it!
How to participate in the group of Young Naturists
Contact with us
The first step is to send us a (small) introductory message and let us know that you are interested in joining our group. You can do this through a DM on Instagram or Twitter, or by email to joves@naturisme.cat. It would be ideal for you to tell us a few things about yourself (your age and location, the way you experience naturism…), and you can also take the chance to ask us any questions you may have.
Check the activities section
Once you have introduced yourself, you will need to participate in one of our activities so that we can get to know you in person and let you join our WhatsApp group as a member of Young Naturists. In the "Activities" section you will find all the activities we have planned for the coming months, of different duration and inside and outside Catalonia. Keep in mind that you will see, mixed, the activities that we organize as a youth group and those that the CCN programs for everyone, in which we participate as an integral part of the association. We will always specify who is organizing each meeting in the title of the event.
In addition to consulting the agenda of the website, other options for you to find out what we are planning to do is to follow us on the social networks or write us an email and authorize us to send you messages with information about the activities.
Come and meet us!
If you have found an activity that interests you, do not hesitate and come enjoy naturism with us! Sometimes, for example when we have to make a reservation in a resort, you will need to confirm your attendance by email or DM, so don't forget to read the information regarding every activity. Needless to say, the CCN's activities will always be more crowded than ours because they are designed for all members to participate (whether or not they are associates), which also makes them very interesting and entertaining!
Once we have met in person in an activity (ours or from the CCN), we will add you to our WhatsApp group to get you in touch with other members and you will become part of Young Naturists. Please note that at no time during this process will you be asked to pay for joining our group, nor will you be required to become associated to the CCN .
Do you want to go further?
You can always help us, if you have availability and you are comfortable with us, to promote the naturist lifestyle and make our cause bigger and more visible. Here are the things you can do at the moment to assist us (and we will be very grateful!):
Write an article for this website. As you may have seen, we are just starting to push the web forward and we lack a lot of content, so if you like writing and even more so if it's about naturism, this is your chance! You can make an article about any aspect of the naturist lifestyle, or about how your usual beach or campsite is like, or one that advises those who want to try going naked outdoors for the first time… you can even tell us your own story for it to appear in the individual experiences section! If you want to make a post, send it to us by an email to joves@naturisme.cat once you're finished writing: we will gladly publish it!
Give us ideas for future activities.

We schedule meetings for us all to enjoy naturism together, so you also have a lot to say. You can always tell us what kind of activities you would like to do or advise us on the ones we already have planned.
Become a CCN associate.

It is important to be aware of the relevance of naturist associations and their role in defending and promoting our lifestyle. That is why we highly recommend that you become associated to the CCN even if it is not mandatory to join Young Naturists, and not only for the benefits it brings you (we will tell you later), but also, as we have said, so that we can make ourselves better heard and protect our rights and our usual beaches. United we are stronger!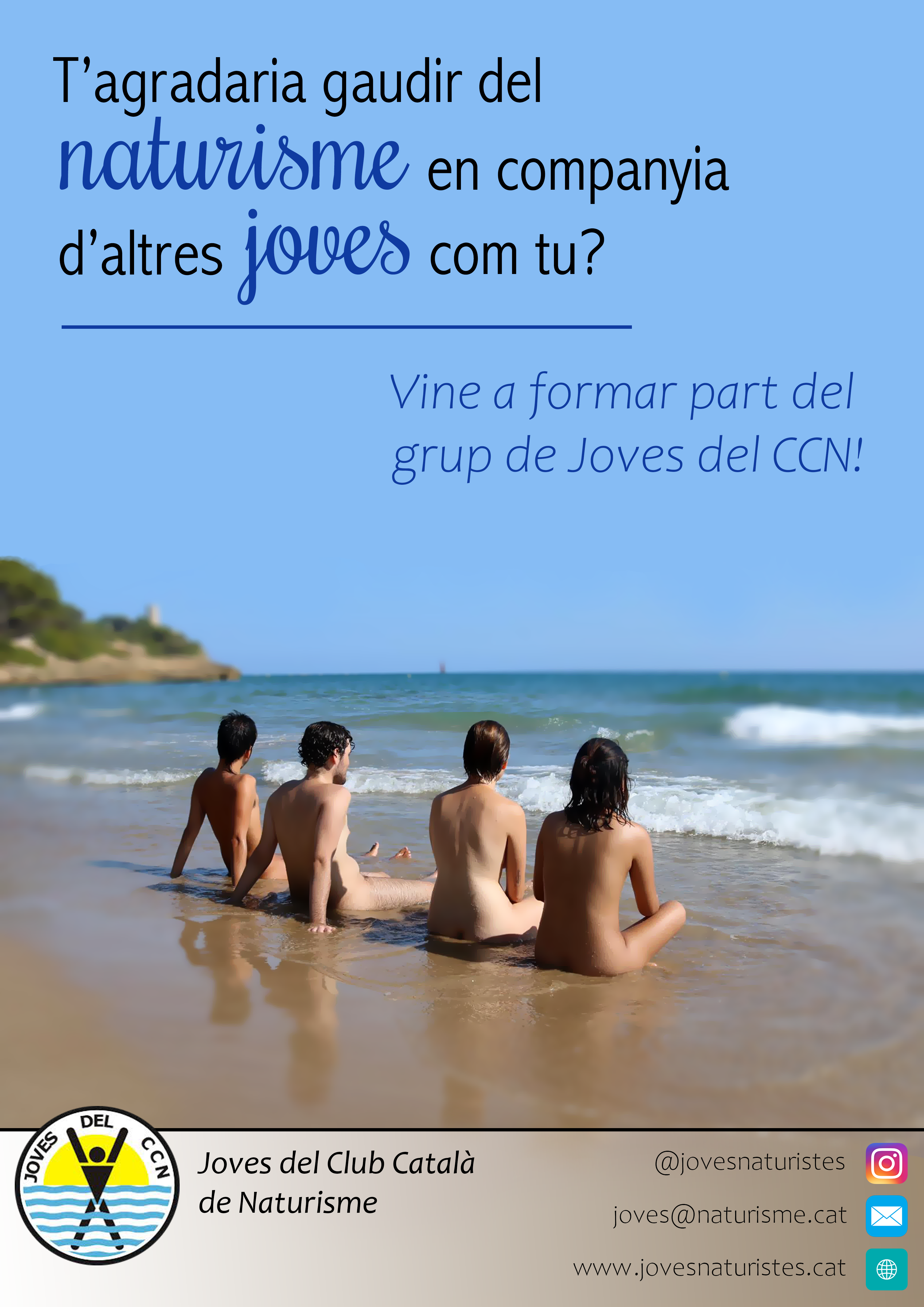 How to become a CCN associate
1. Fill in the form on the CCN website
On the CCN website you will find a link to a form (located on a secure server) that you must fill in with your personal details.
2. Make the payment
The first year you will have to pay the fee by transferring it to the account number (Caixa d'Enginyers) on the form page. From then on, the CCN will collect the annual fee always by direct debit. The first time you can also pay the fee in cash at the club's office, located in Barcelona (Pere Vergés street, 1, floor 11 office 10). Office hours are Wednesdays from 7 to 9 p.m., except July and August.
3. Send a photo
To make the cards you have to send a photograph (such as the ones for ID cards) by email to ccn@naturisme.cat , by mail to the address mentioned, or deliver in person to the office.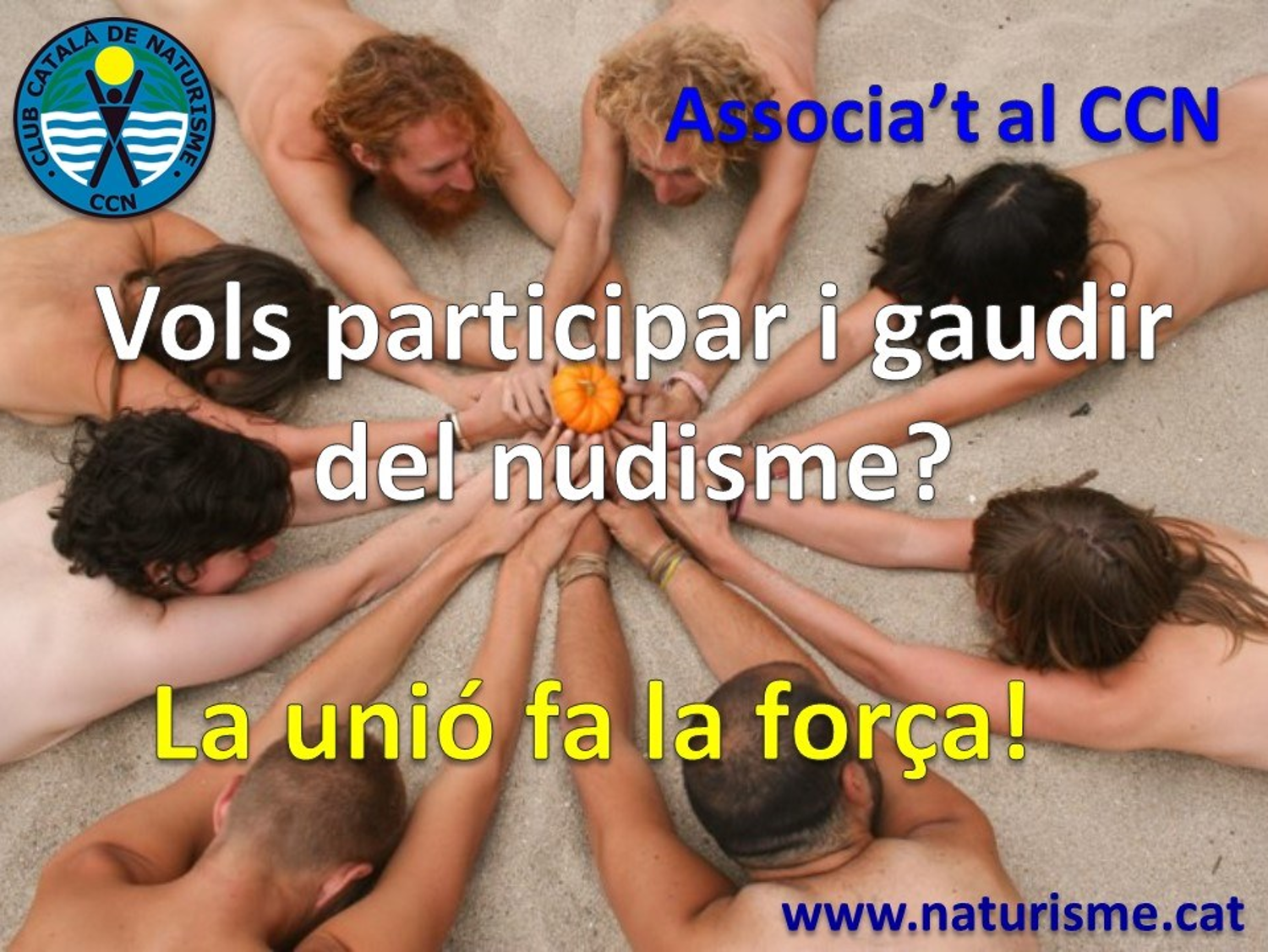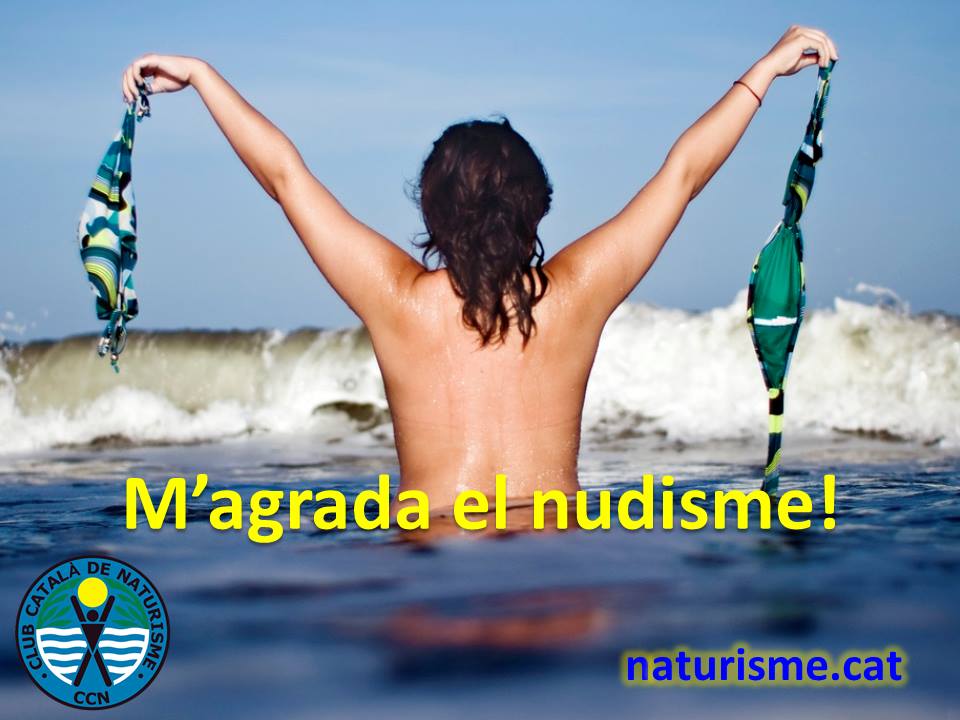 BENEFITS OF ASSOCIATES
So what are the benefits of becoming a CCN associate? Below we present them as they appear on the club's website (with some additions) so that you have all the information available:
You will receive a quarterly newsletter.

Associates receive the CCN newsletter every three months, called

Naturism

, with information on the activities and meetings carried out by the CCN, articles and opinions from members (also ours!), news related to the naturist movement and reviews of naturist resorts in Catalonia, Spain, Europe and elsewhere.

You will have access to certain naturist

resorts.

Associates receive a naturist card or passport from the International Naturist Federation (INF). This card is essential to enter some naturist resorts and to enjoy discounts in others.

You will have access to the WhatsApp group for Young Naturists members who are also CCN associates.

This is a group reserved for members of Young Naturists who are also associated to the CCN, where issues about the organization of the group are discussed and where future activities are considered first.
You will get discounts

on meetings and activities organized by the CCN and other associations that belong to the FEN and the INF, and on the entrance fee to the Picornell nudist swimming pools in Barcelona. Some of the activities coordinated by the CCN are:

Trips to beaches of nudist tradition in Catalonia.

Sports activities such as beach volleyball.

Inland hikes with skinny dippings.

Meetings at national and foreign naturist resorts.

Organization of massage workshops, yoga, theater, photography, body painting, etc.

Talks, conferences and assemblies on naturism or related topics.

Claim or awareness actions.

Parties, festivals and other social events to keep in touch with other associates throughout the year.

You will meet other naturists.

Being an associate allows you to meet other naturists, people who have a lifestyle similar to yours, with whom to go to the beach or the mountain, with whom you can talk without taboos, people to share many activities, etc.

You will participate in the promotion and defense of naturism.

Being associated with the CCN and at the same time federated with the INF makes you participate in the defense of naturism in Catalonia and worldwide. We are a minority and we need an organization that promotes and defends naturism.
It should be remembered that membership fees are the main source of funding for the CCN association and, consequently, the basis for supporting the representation of organized naturism in Catalonia.
The more we are, the stronger we will be! The organized naturist movement needs to be large in order to achieve better social recognition and respect for naturism.