Who are we and what do we do?
We are a group of people, mostly between 18 and 35 years old, who share the practice of the naturist lifestyle in all or some of its branches (vegetarianism/veganism, ecologism, nudism, natural medicine…), which bonds us together and allows us to be a well-cohesive group in which friendship, tolerance, acceptance, and respect go before anything else. Here you can find all kinds of people, with diverse interests, tastes, and purposes, but at the same time with a sincere will to live naturism as a peaceful, respectful, and inclusive ideology that is experienced differently by everyone and can be enjoyed even more in the company of others.
Do you want to see it for yourself? Come and meet us! Throughout the year we organize many activities ranging from one-day meetings at beaches to longer stays at various naturist centers, and also excursions, talks, workshops, spa sessions… You will find the coming events in the "activities" section of this site!
Bringing together the young naturists
of the Catalan Countries
We work to create a dynamic and diverse group in which anyone interested in naturism can feel welcomed, without distinctions of gender, ethnicity, language, nationality or belief. We want to offer young naturists in the Catalan Countries (and also beyond), whether they have been practicing the lifestyle for a long time or are still trying to find out what is all about, the opportunity to meet other like minded people and participate in all kinds of meetings (the list is very long!) to share some time together while connecting with nature.
Creating a safe environment
for practicing nudism
Acceptance and respect prevail in our group, and we make sure that the essence of naturism is reflected in both the activities and online communication channels. Our goal is that everyone who wants to be part of Young Naturists can be at ease, in a safe, nonsexual environment that generates confidence and relaxation. That is why we restrict access to WhatsApp groups to people we don't yet know in person, and we only organize outings when we know that the conditions for the practice of nudism will be adequate and we can count on a good number of fully trusted attendees.
Promoting the naturist lifestyle
through various means
Our work of diffusion on the networks and on this website allows us to reach more people inside and outside Catalonia, and to normalize the practice of nudism in the eyes of society. We fight to preserve our spaces and our rights, and to acquire new ones. We make activism for a cleaner and more sustainable planet, where we can live in harmony with nature. Through the articles we post here, we keep the naturist community active and vibrant and help build a place for the exchange of ideas in which all opinions are accepted and respected.
Do you want to contact us?
Right now you can send us your questions and suggestions through our mail (joves@naturisme.cat) or through a DM to our Instagram or Twitter accounts.
If you want to participate in our meetings or join our group, you need to contact us and introduce yourself. In the "Do you want to join?" section we explain to you the whole procedure!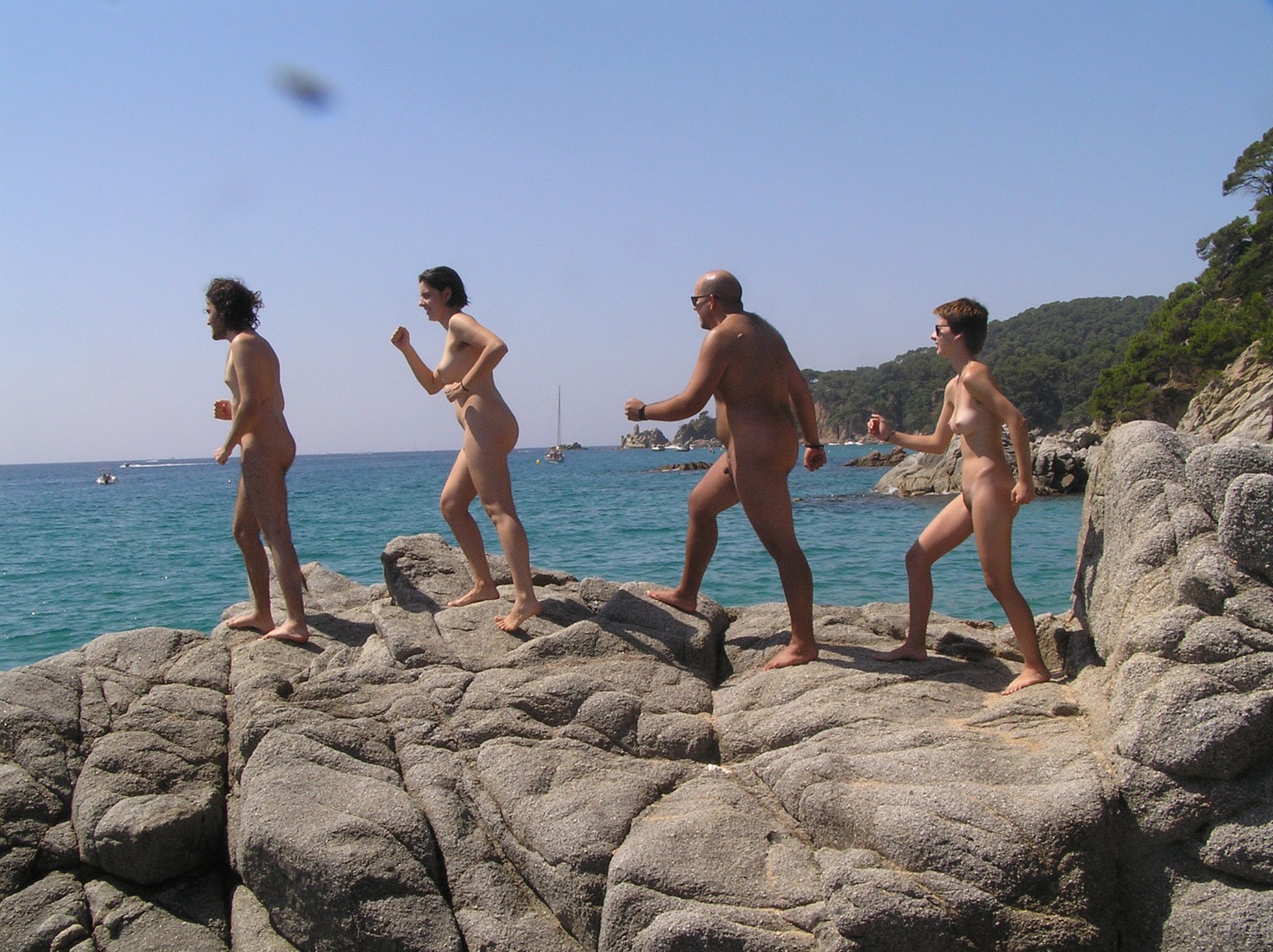 And what is the CCN?
The Club Català de Naturisme (CCN) ('Catalan Naturist Club') is a non-profit association founded in 1977 that promotes and defends naturism in Catalonia, specially the practice of social nudism through the organization of several outdoor activities that are held in a climate of respect for people and the environment. The association is part of the International Naturist Federation (INF) through the Federación Española de Naturismo (FEN) ('Spanish Naturist Federation'), which allows it to provide its members with a naturist card of international scope, and since 1980 publishes, also for associates, the quarterly bulletin "Naturism".
If this small definition is not enough for you, don't hesitate to visit the CCN's website (www.naturisme.cat) for more information. There you can also consult the next activities organized by the association (in which we usually take part), see where are the main naturist centers and beaches of naturist tradition in Catalonia, participate in the various threads of the forum and fill out the form to become an associate.
Remember that, if you want to know how to become an associate and which are the benefits of being one, we explain it too!
Young Naturists inside the CCN
Although we schedule outings and have a certain autonomy as a group, it should be noted that we are not a naturist association in itself, but we belong, as an integral and inseparable part, to the Club Català de Naturisme. It is important to keep this in mind and to understand it, because as it is the CCN that looks after us, we must not distance ourselves from what is happening inside the association, on the contrary: we need to be heard in the forum and the assemblies, to participate in joint meetings and to be the engine of the changes that will renew the club year after year and will allow naturism in Catalonia not to stagnate.
Now that you know us a little more, what do you think? Would you like to come with us one day and see it all with your own eyes?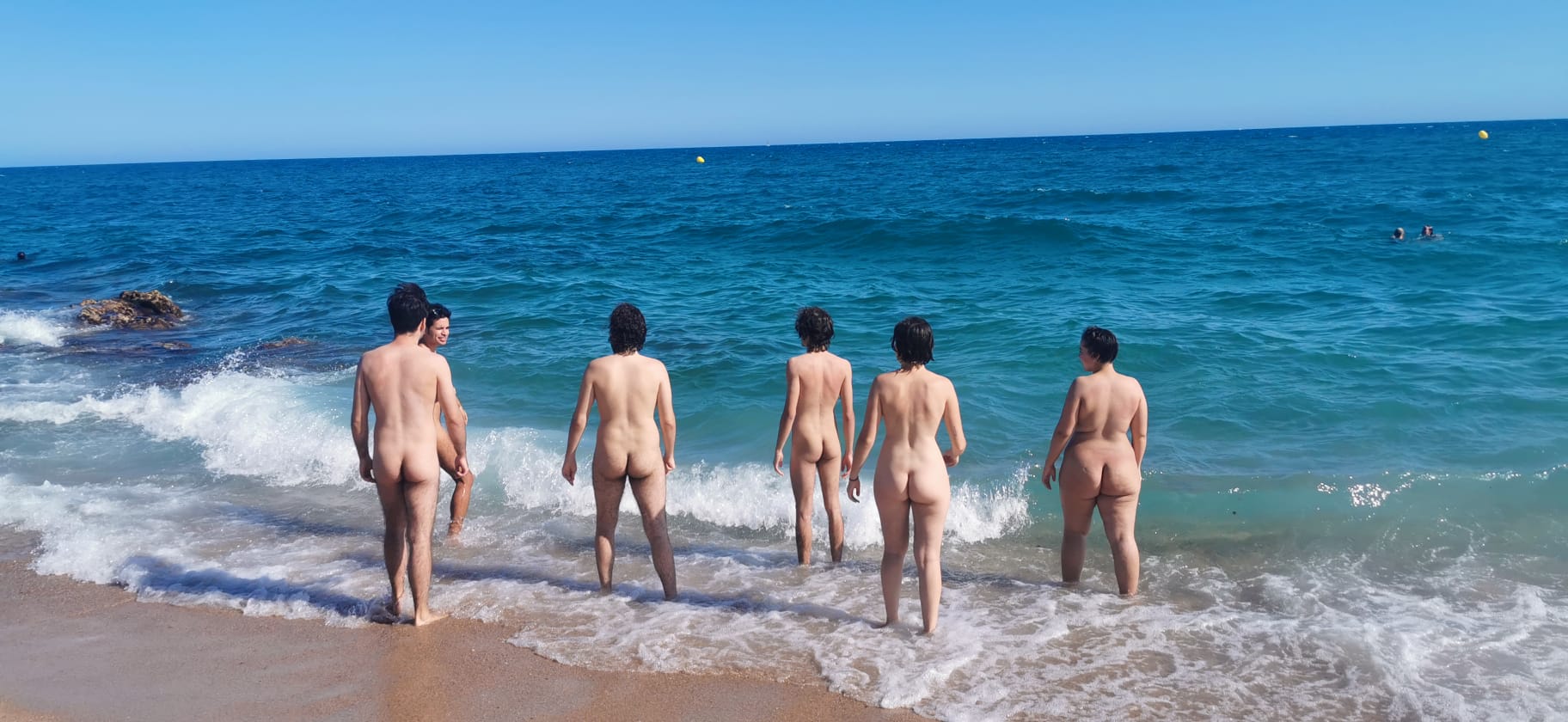 The naturist vanguard
Meet the organizers of Young Naturists! 📢
Is Young Naturists a for-profit association?
No. The aim of the group is to promote a lifestyle, guide young people in naturism, have fun in activities and meet new people. We don't get any economic benefit from doing what we do.
Do I have to become a CCN associate to participate in the activities?
It is not necessary, although we highly recommend it. You will find more information on this topic in the "Do you want to join?" section.
How many people are part of Young Naturists?
We keep in touch with about 30 people, some of them are associated to the CCN and some others aren't. In the activities, the number of attendees is usually around 10.
When will you organize an activity close to where I live?
We organize meetings according to people's availability and we are always open to new ideas for activities and places. Why don't you propose one, near where you live? We look forward to helping you organize it!
What is the girls/boys ratio in the activities?
There is not an established proportion, it is the one that comes out naturally depending on the participants who want to attend to each activity (as in any other group). The only thing we can assure is that the group is quite diverse and that we never limit attendance basing on gender, as we believe that this goes against one of the fundamental pillars of naturism (respect and acceptance towards others).
Does my physical appearance matter when practicing nudism?
Not at all. Nudism, like naturism in general, is based on respect and acceptance, and this involves understanding that all bodies are equally beautiful and natural, in all their shapes and sizes. There is no perfect body, or rather, they are all perfect!
What if I have an erection?
It's not a big deal, though it's not very usual. It's understandable if it happens the first times someone practices social nudism. Just act naturally! 🙂
Do you let people older than 30 participate?
Yes. However, older people may find themselves displaced by a lack of common interests with others. We do not want to be exclusive, but we do want to emphasize that the basis of the group is to make positive discrimination towards young people as a minority group within naturism.
If you still have an unanswered question, you can send it to us by mail or Instagram / Twitter