Naturist meeting at Clua de Meià – CCN
10 June @ 9:30

-

18:00

CEST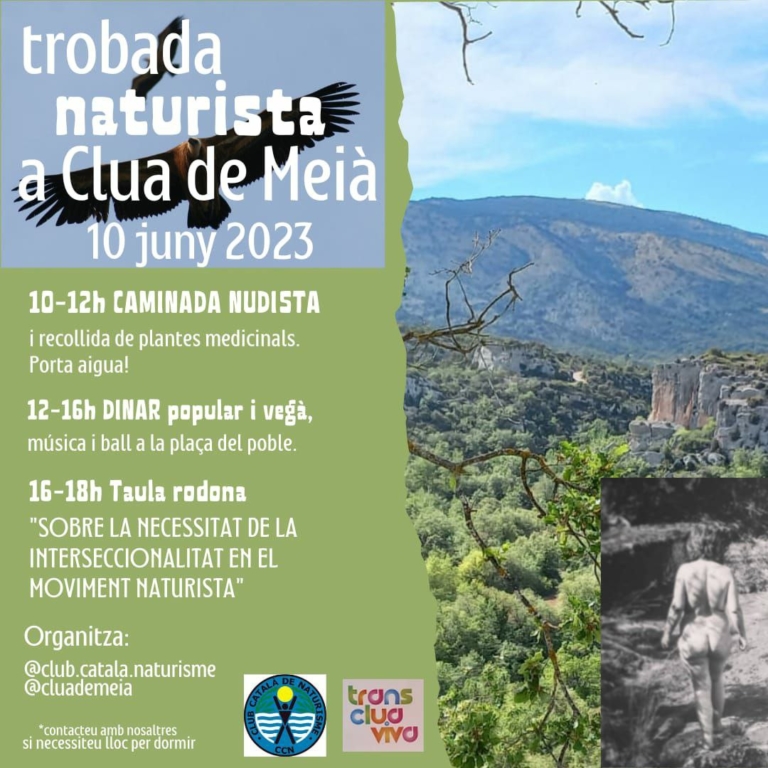 On Saturday, June 10, the Catalan Naturist Club and the Transcluaviva association are organizing a visit to the village of Clua de Meià (Artesa de Segre) and a nudist hike through the valley of Ariet. Some people from Young Naturists will participate!
There will be a popular vegan lunch, a paella offered by the Transcluaviva association.
In the afternoon there will be a round table titled: "On the need for intersectionality in the naturist movement".
To sign up for the activity, you can contact us by email (joves@naturisme.cat), by DM on Instagram or Twitter, or by sending a message to one of our WhatsApp groups (if you are part of one). Alternatively, you can also contact the CCN directly (email ccn@naturisme.cat or WhatsApp 669289271).
It is possible to sleep in the village of La Clua on the night from Friday to Saturday and/or from Saturday to Sunday. For sleeping there are the association premises (5-7 people), a caravan (2 people), the church, and the camping area. If you need accommodation, ask for it and we will give you the contact of the Transcluaviva association.
There is also a hostel in Artesa de Segre and rural tourism houses in the surrounding villages. If you want information, you can also ask us.
We will meet at 9.30 am in the village of Clua de Meià, in the square, in front of the church. Location on Google Maps.
Organized by: Associació Transcluaviva and Associació Club Català de Naturisme .